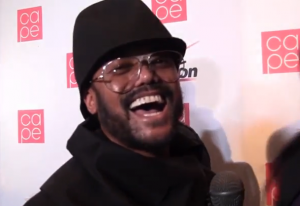 Host Jackie Watson was on the red carpet mingling with celebs at The CAPE Holiday Party & Farewell to Jennifer Sanderson, CAPE Executive Director.
About CAPE:
CAPE champions diversity by educating, connecting, and empowering Asian American and Pacific Islander artists and leaders in entertainment and media.
As one of the first diversity-focused groups in Hollywood, CAPE (The Coalition of Asian Pacifics in Entertainment) is proud to celebrate 23 years as the longest-running, largest, and most influential meeting place for AAPIs in the entertainment industry. Today, our Board of Directors is comprised of 19 active professionals and our Advisors include distinguished executives and artists such as Ang Lee, John Woo, Dean Devlin, David Henry Hwang, Lou Diamond Phillips, B.D. Wong, Janet Yang, and Teddy Zee. CAPE continues the mission of our founders to create a community where positive, like-minded people can support one another both personally and professionally – and continue advancing diversity in entertainment.
Our History:
CAPE was founded by television producer and executive Wenda Fong (second to the right), publicist Fritz Friedman (far left), and film producer and executive Chris Lee (far right) in 1991. They saw a need in the industry for AAPIs to regularly connect and support each other.
The first CAPE gathering started as a handful of friends who met in the back of a Chinese restaurant – long before Asians were nominated for Oscars (or even won them). It was a time when pioneers like Wayne Wang (DIM, EAT A BOWL OF TEA) and Steven Okazaki (UNFINISHED BUSINESS, the Oscar-winning DAYS OF WAITING) were punching through decades of media stereotypes. Hollywood had yet to grasp that Asian Americans were about to become a significant force in the world´s most influential cultural industry.
Over the years, CAPE has grown considerably from its humble beginnings and mobilized a community through volunteer efforts alone. Numerous Asian Pacific Americans have fostered their careers in entertainment by attending our numerous educational programs and opportunities that offer the tools to excel in a highly competitive industry. We give voice to emerging and established actors, writers, directors, producers, agents, and executives as well as build bridges between Hollywood and the national cinemas of China, India, Korea, Japan, Taiwan, the Philippines to name a few.