Host Christine Curran was on hand at the Broward Center for the Performing Arts as The Ghost Light Society celebrated a decade of engaging and inspiring a new generation of performing arts supporters at the 10th Annual Ghost Light Society Soirée: Soirée à Paris presented by Ultimate Software.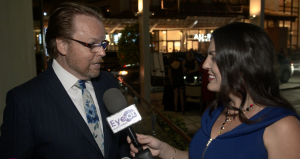 The sold-out Parisian-themed event was attended by 250-plus young professional leaders who will enjoy the featuring dining, dancing and more at the Broward Center for the Performing Arts, with proceeds to benefit the Broward Center's arts-in-education programs.
In its tenth year, Ghost Light Society will top more than one million dollars raised for those arts-in-education programs.
About the Annual Soiree:
The Ghost Light Society was established in 2009. Its annual Soirée has become one of the most highly anticipated events of the season while also enabling the group to raise what this year will be over one million dollars over the last ten years for arts-in-education programs.
For the second year in a row Ashley Boxer of Maxim Healthcare Services and Whitney Dutton of Dutton Real Estate Services will serve as co-chairs of the Soirée, coming off the record-breaking success of last year's event.
Presenting Sponsor of tonight's Soiree is Ultimate Software. Platinum Sponsors are Akerman LLP, Broward Health, Celebrity Cruises, LaCroix Water, Ashley and Matt Lindsay and Charles and Laura Palmer, Memorial Healthcare System, Merrimac Ventures and Publix.