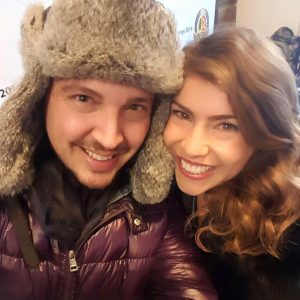 Host Max Tucci on the red carpet with Victoria Fratz at the Indie Lounge Park City for Sundance 2016.
Lee works as an actor, producer, writer and a casting director. She is a producer at Jeff Rice Films and also develops her own projects with her company LB Entertainment, which she produces, writes and performs in. Lee is a graduate of L.A.C.C Theater Academy and currently lives in Los Angeles, California.

About Antibirth:
Lee Broda Executive Producer
In a desolate community full of drug-addled Marines and rumors of kidnapping, a wild-eyed stoner named Lou wakes up after a wild night of partying with symptoms of a strange illness and recurring visions as she struggles to get a grip on reality while stories of conspiracy spread.
About Outlaws and Angels:
Lee Broda – co-executive producer
When Outlaws on the lam invade the home of an unsuspecting, seemingly innocent, frontier family to hide out for the night, an unexpected game of cat and mouse ensues, leading to seduction, role reversal, and ultimately, bloody revenge.