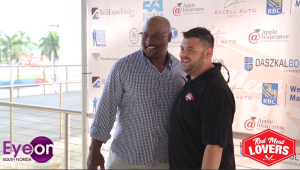 Host Evan Golden was on the scene at Florida Atlantic University for #RedMeatLovers Super Bo: A Night with Bo Jackson benefiting Make-A-Wish Southern Florida Few people in the world were as exciting and dynamic in sport as Bo Jackson. Now Bo Jackson is even MORE dynamic because he is in the food world.
The "meating" was an amazing night of super sized #34 signature steaks, question and answer, cooking demo by Chef Bo himself.
Check out our menu for the night
Apps……
Grilled Skewers
Korenen Pork Belly / Deep Fried Chicken Meatballs
Bo Jackson Barbocoa Bites and with Avocado and Jalapeno Onions
Truffled Beef Sliders
Main Stations
Bo's Filet Mignon Skewers with Butter
Bo's Skirt Steak with Charcoal Grilled Potatoes
Braised Short Ribs with Cheddar Potatoes
Over the Top Whole Braised Pig Tacos
Desserts
Hot Donut Station with Vanilla Ice Cream and Cracker Jack Candied Bacon OMG…..
Thank you to our major sponsors Apple Insurance and Excell Auto.
This event will be held AT FAU football stadium. We will be meating on the second floor but we will have the stadium for ourselves.
We are going to be partnering with Make A Wish South Florida. Silent and Live auction proceeds will be going to this amazing organization. If you don't know this organization ……google it. Sick and terminally sick children getting their dream fulfilled….no matter how big the ask is. Bo auctioned his new amazing grill "The Beefer" imagine grilling a steak at 1500 degrees at home (steakhouse crust = delicious). He gave a cooking and grilling demo as well.
We will be cooking up a storm of #34 steaks, sides, apps and an open wine bar that would make anyone happy.
The Secretary of Steak
This is my thank you to our sponsors because without you we nothing.
John Perry Royal Bank of Canada… Financial Advisor
Zac Campbell Northwestern Mutual …life insurance
Ken MordechaiDiamonds East International Jewelry and Watches (wholesale prices to RMLC)
Richard M DavidsonTotality Chiropractic chiropractor and wellness center . Nicest guy ever
Lee Cohen personal injury lawyer 1800CallLee
Matthew H Maschler residential real estate and matthewMania president of epic
Ryan Boylston2TON creative agency
Van Kirk & Sons Pools & Spas pools and hardscaping
Steven Friedman Accounting Daszkal Bolton LLP
Scott ZanklEXCELL AUTO GROUP exotic cars and our "go to" charity support item. Thank you for the Rolls Royce dreams
561 Signs & Printing our printing specialist
Jarred Smoke Allstate Insurance, property insurance to the stars (and the secretary of steak)
Rick JultakMarc FineShawn EllenApple Insurance and Financial your personal health insurance specialist
Smoke Inn CigarsAbe Dababneh you are amazing.