It's a Hole in One for
The Russell Life Skills and Reading Foundation on March 7 & 8
Publix Supermarkets Presented the 13th Annual Links for Literacy Celebrity VIP Party & Golf Classic in Hollywood FL to benefit the Foundation's Reading Rooms in Broward and Miami-Dade Counties
HOLLYWOOD, FL– Former Miami Dolphins players Twan Russell and Joe Rose co-hosted the Links for Literacy Celebrity Golf Classic at the Orangebrook Golf and Country Club on March 8, 2014 and the VIP Kickoff Party on March 7, 2014 at Dave and Busters Hollywood.
Special appearances by professional athletes and celebrities took place at both events to include current and former National Football League (NFL) players such as Nat Moore, Dwight Stephenson, OJ McDuffie, Kim Bokamper, Mark Higgs, James Pruitt, Corwin Anthony, John Offerdahl, Derrick Rodgers, Kerry Glenn, Bobby Harden, James McNight, Jed Weaver, Troy Drayton, and former Baltimore Ravens cornerback Duane Starks, along with NBA Hawks power forward Mark Strickland, former NY Jets Don Silvestri[J1] [J1], and NBC 6 South Florida Chief Meteorologist John Morales to name a few.
"Each year, the Celebrity Golf Classic gives our local supporters and VIPs a chance to mingle and network, while learning more about the incredibly positive impact that the Russell Life Skills and Reading Foundation has on the youth in Broward and Miami-Dade Counties," said Twan Russell, Co- Founder of the Foundation.
The VIP Kickoff Party was held on March 7, from 6 p.m. until 9 p.m. at Dave and Busters in Hollywood. The event included food, drinks, a live and silent auction, raffles and giveaway's every 15 minutes.
On Saturday, March 8th the Celebrity Golf Classic at Orangebrook Golf and Country Club began at 10:00 a.m. with registration, breakfast and a putting contest. The four-man scramble and shotgun start began at 12:00 p.m, with each foursome being paired with a celebrity. Upon attending the Golf Classic, each golfer had the opportunity to participate in a variety of challenges, including Hitting a Hole in One for a brand new car, while enjoying food and drinks provided by sponsor and partners throughout the course. At 5:30 p.m. the 19th Hole Awards Party sponsored by Ultimate Software took place, along with a sit down dinner.
Congratulations to Randy Pierce in the hole in one challenge. He won on hole 16 East, a PAR 3. Car was donated by Bill Seidle Auto Group. He won a Mitsubishi Outlander. It is a 1 in 12,000 chance for him to get a hole in one.
Thank you to this year's event sponsors: Publix Supermarkets, City of Hollywood, Dave & Busters, Orangebrook Golf & Country Club, Doctors Hospital, Lime Fresh Mexican Grill, MetroPCS, EnVision Web Development, Borinquen Health Centers, Barefoot Wine & Bubbly and Lifestyle Magazine Group.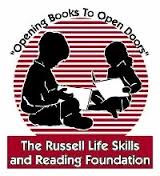 About The Russell Life Skills and Reading Foundation
Founded by former University of Miami and Miami Dolphins player, Twan Russell, The Russell Life Skills and Reading Foundation (RLSRF) is a non-profit organization committed to fighting illiteracy among high-risk youth through its mission of "Opening Books to Open Doors." RLSRF provides certified teachers to instruct and nurture children using proven methods such as phonics, word recognition, comprehension and other interactive reading material to break the cycle of multi-generational illiteracy among our youth. RLSRF community outreach initiatives include programs aimed to instill a deep love for reading and respect for the life-changing possibilities offered through literacy. Our vision is to "open young minds to the boundless opportunities available to the educated." RLSRF has 10 Reading Rooms located in the Broward County and Miami-Dade area serving minority and economically disadvantaged children.
For more information, please call (954) 921-3787 or visit www.russellreadingroom.com.
Debra Kerr SVP East, Pearson US K12 A very special thank you for your efforts and assistance in helping The Russell Life Skills and Reading Room.
About Pearson:
Our nation is becoming increasingly united in the need to improve student achievement and better prepare our children to succeed in college and beyond. At Pearson, we believe in what we make, but more importantly, in what we make possible. Our solutions can help you address pressing challenges and opportunities: including raising achievement standards for schools, teachers, and students; providing unlimited access to education; and implementing affordable solutions to maximize educational investment.