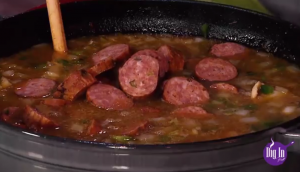 Host and Food Personality Chad Thilborger hits up a Gumbo cook-off before heading home to show you how he makes his.
Dig In Y'all! is a lifestyle program that's all about enjoying food and creating memories with family and friends. Cookbook Author/Host Chad Thilborger's philosophy about entertaining is pretty simple. You get a whole heap more out of life when you add more spice, color and a tad more effort into everyday things.
Chad will share his family recipes which consist mostly of Southern dishes – but with a twist. He'll also show viewers how to combine cooking and entertaining as a way of bringing people together. Chad will provide techniques, tips and recipes and loads of family stories sure to make you think back to gatherings of friends and family that just make you want to Dig In Y'all! But more than that, Dig In Y'all! provides ways to help you make your own memories in the kitchen and beyond.
Dig In! airs Sundays at 11:30am ET on SFL/CW and over the air on Channel 16 – Eye On South Florida