BIG & RICH GET INTO HOLIDAY SPIRIT AS GRAND MARSHALS OF THE 46TH ANNUAL SEMINOLE HARD ROCK WINTERFEST® BOAT PARADE
Tune in to Winterfest® Television Special on WSVN 7 on December 16 at 7 p.m. EST
Award-winning duo Big & Rich served as the Grand Marshals of the 46th Annual Seminole Hard Rock Winterfest® Boat Parade, South Florida's most acclaimed holiday celebration. The parade took place in Fort Lauderdale on Saturday, December 9, with nearly one million spectators along the shoreline of the 12-mile parade route. The Winterfest® Television Special will air on WSVN 7 on December 16 (7 p.m.), December 25 (4 p.m.) and December 31 (5 p.m.)Host Karyn Turk catches up with country music superstars Big & Rich the 2017 Grand Marshals for the Seminole Hard Rock Winterfest Boat Parade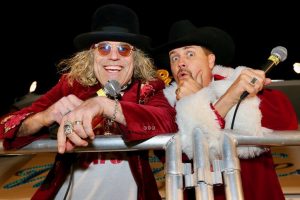 BIG & RICH:
As Big & Rich, John Rich and Big Kenny Alphin have exerted a definite "gravitational pull" to the direction modern country music has taken. Their much anticipated new project, "Gravity" provides a stellar example of the genius of their creative brotherhood–the result of two unique musical personalities colliding to form an even greater positive sum total. The project has propelled the superstar duo to new heights, having secured back-to-back Top Ten hits for the first time in their career with "Look at You" and "Run Away With You," while their current single, "Lovin' Lately" featuring Tim McGraw continues to climb the charts.
From the vantage point of today's career success, John notes:
"When Kenny and I were first considering doing music together some 15 years ago, I can recall like it was yesterday him saying, 'Man, we like two individual planets— wouldn't it be awesome to collide and smash the universe together," he recalls. "We definitely felt that creative gravitational pull from the beginning and I think it continues to translate into the music."
They are America's Technicolor cowboys, brothers-in-arms in service to the creed that great music has no boundaries. Individually, John and Big Kenny are first-rate musicians, songwriters, producers, entertainers—and now the creative force behind their own label imprint, Big & Rich Records. Together, they are one of the most truly original musical forces ever unleashed on a welcoming world.