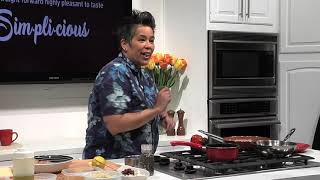 Top Chef and local celebrity, Josie Smith-Malave joins us in the kitchen to show us how to make a simple and delicious meal. Josie Smith Malave, is a Conscious Celebrity Chef, Restaurateur, Empowerment Trainer, and DJ. This bohemian chef and stand-out competitor appeared on FOUR seasons of Bravo TV's Top Chef. She has been named "Best Chef in South Florida 2017" by the Sun Sentinel. And currently, running for Mayor of Wilton Manors.
As a young cook, Josie spent ten years working in New York City's top food scene. It was under chefs Wylie Dufresne, Jean-Georges Vongrichten, Caroline Fidanza, Dan Silverman and Walter Hinds where her culinary skills were nurtured and shaped. Those growth filled city years were followed by a San Francisco residence and popular Global Soul Corner pop up at Thee Parkside (rock bar). Still after more than decade it was the Rock, Roll, Soul & yoga that inspired this chef's conscious food moving forward.
Her masterful mix of authentic culture and native cuisine has earned her the title of "Global Soul Chef." As an outgoing, bold and conscious chef personality , she maintains a busy schedule empowering lives, teaching kids mindfulness practices, traveling and connecting people through food. She is proud owner of Bubbles + Pearls, a champagne & oyster bar in the thriving Ft Lauderdale neighborhood, Wilton Manors.
Chef Josie has committed to a lifestyle of "Eating well and Living happily" expressed through awakening, inspiring and empowering people through food and living life to the fullest. A major component to this equation is living as a contribution. You can find her volunteering and sharing a warm smile with everyone she touches. She is devoted to empowering kids & ending hunger. Her vehicles are creativity, food & music "FOOD CONNECTS US ALL".