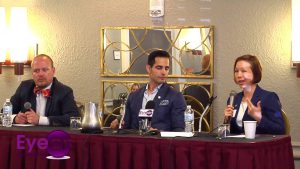 The Technology Committee of the Greater Fort Lauderdale Chamber of Commerce presented the first annual Promote & Protect Technology Summit with Platinum Sponsor SonicWall. This half-day seminar dove deep into two critical topics: cybersecurity and digital media.
Rob Krug, Senior Security Solution Architect for SonicWall showed you how vulnerable you really are, and what you should be doing, but probably aren't, to protect yourself.
The first breakout panel explained why you should care about cryptocurrency, even if you aren't buying in. How hackers are using it, and why major law firms are turning their attention to this digital cash.
Featuring David Silver, Founding Partner of Silver Miller
Next, we learned from experts who built their business using social media.
Featuring Chris Van Vliet, Reporter for Deco Drive and President and Co-Founder of WOO Tungsten. Chris grew a 90,000 person following for his business on Instagram in less than 12 months
Sebastian Rusk, CEO & Founder of SocialBuzzTV and Author of Social Media Sucks If You Don't Know What You're Doing.
Kim Cohane, M.S., Associate Director of Public Relations and Marketing Communications, Online Marketing & Social Media for Nova Southeastern University.
Jonathan Brownfield, CEO of LIFT Digital Media and Founder of Behind The Wheel took us inside his success. How he built his company while speeding into a successful side business that puts him behind the wheel of some of the most luxurious cars on the market.
Thanks to our sponsors SonicWall, SECNAP Network Security, Paton Marketing, Eye On South Florida and Capital Analytics Associates