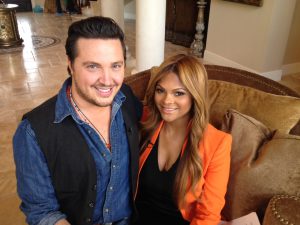 Season 1 Episode 1
Max Tucci sits down with real estate powerhouse, author, and mother Tomi Rose
About Tomi Rose
A Global Premier Realtor for high profile clients, Tomi Rose has established herself as a top producer and Senior VP of Opulence International Realty's Sports & Entertainment Division, "OSE". OSE is a centralized real estate team that – on both a national and international level – provides personalized, white-glove service to professional players, celebrities, and their families to fully satisfy their real estate needs.
Solid relationships within the corporate, entertainment, film/television, music, sports and fashion industries are an integral part of Tomi's multi-faceted approach to client visibility.Rose's repertoire includes more than 200 athletes and celebrities, among them the late Michael Jackson; basketball player Shaquille O'Neil; soccer player Samuel Eto'o; basketball players Mario Chalmers, Mr. and Mrs. Juwan Howard, and Mr. and Mrs. Carlos Boozer; Bryan "Birdman" Williams, CEO of Cash Money Records; actress Vivica Fox; actor Owen Wilson and others. Her solid relationships with these individuals as well as other titans of fashion, film, music and sports, gives her the advantage of direct access. Additionally, she understands first hand what their needs, preferences and demanding schedules are, which allows her to effectively work while always providing top-notch service.
"My clients often call me the 'David Faulk' of real estate, which is a tremendous compliment considering that Faulk is a powerful person in the NBA and at one time represented at least one client on 25 of the 27 NBA teams. I've grown professionally over the years and today, I am proud to say that my clients span across 15 of the 30 NBA teams," explains Rose. "Joining forces with Opulence International Realty allows me to provide an even more robust offering to my clients. I am confident that my team will dominate the real estate portfolios of the NBA, NFL, MLB, professional soccer markets as well as in the entertainment segment. There is a lot of work ahead of me and I'm excited to hit the ground running."
Tomi appeared on the cover of Network Miami Magazine, where she was featured as one of the top forty under forty professionals in South Florida. As part of the 2010 W South Beach in-house residential sales team, that year alone the team was responsible for closing over $125 Million in sales. Never willing to allow anyone to define her but rather allowing her actions to, in 2012 Tomi became the first African-American Realtor to sell more than $25 million in residential real estate in one fiscal year in Miami-Dade and Broward County. In 2014, Tomi was the first African American Realtor to ever list a $10 Million + property in Florida.
Tomi's latest endeavor, her most ambitious, has been breaking sales records in both Miami-Dade and Broward County. She has also won numerous awards including ICABA's South Florida's Rising Star Corporate Executive 2013, South Florida's Most Powerful Black Professionals in Business and Industry 2014 and Trailblazer of the year 2014 by Legacy Miami Magazine. She was a breakout star in reality Docu-Series: "Hot Listings Miami", which aired August 2013 on Style network with some of the highest ratings ever seen for a new series. A milestone for the African American community, Tomi is the first African American woman on a Real Estate Reality series and was featured on the popular television show Extra, showing property to Vivica A. Fox amongst other celebrity clients.
Tomi is active in the community as a committee member for The Kennedy/Shriver Miami Beach Best Buddies Charity which mentors those with intellectual disabilities by providing opportunities for one-on-one friendships and integrated employment. Tomi is an active member of the Behind the Bench (BTB), National Basketball (NBA) Wives Association. Tomi and her OSE team have carved Sports & Entertainment Real Estate – both nationally and internationally – as their specialty niche.
For more info on Tomi Rose